Step 3 of The PG Evolution: First Reads Festival
The First Reads Festival is a marathon of readings of full plays written by our playwrights and selected to be a part of The PG Evolution development process. Scenes from these plays have been featured throughout the Volumes. Prior to this table read all the plays were a part of Required Reading and now we are presenting them to be heard for the first time in full.
Actors from our casting pool have been cast and will sit around a table and read the plays for the benefit of the playwright. The audience will be invited to observe this process and be an active participant by filling out The PG Evolution Play Analysis Questionnaire to help the playwright continue to develop their work.
First Reads Festival #9: July 20, 2019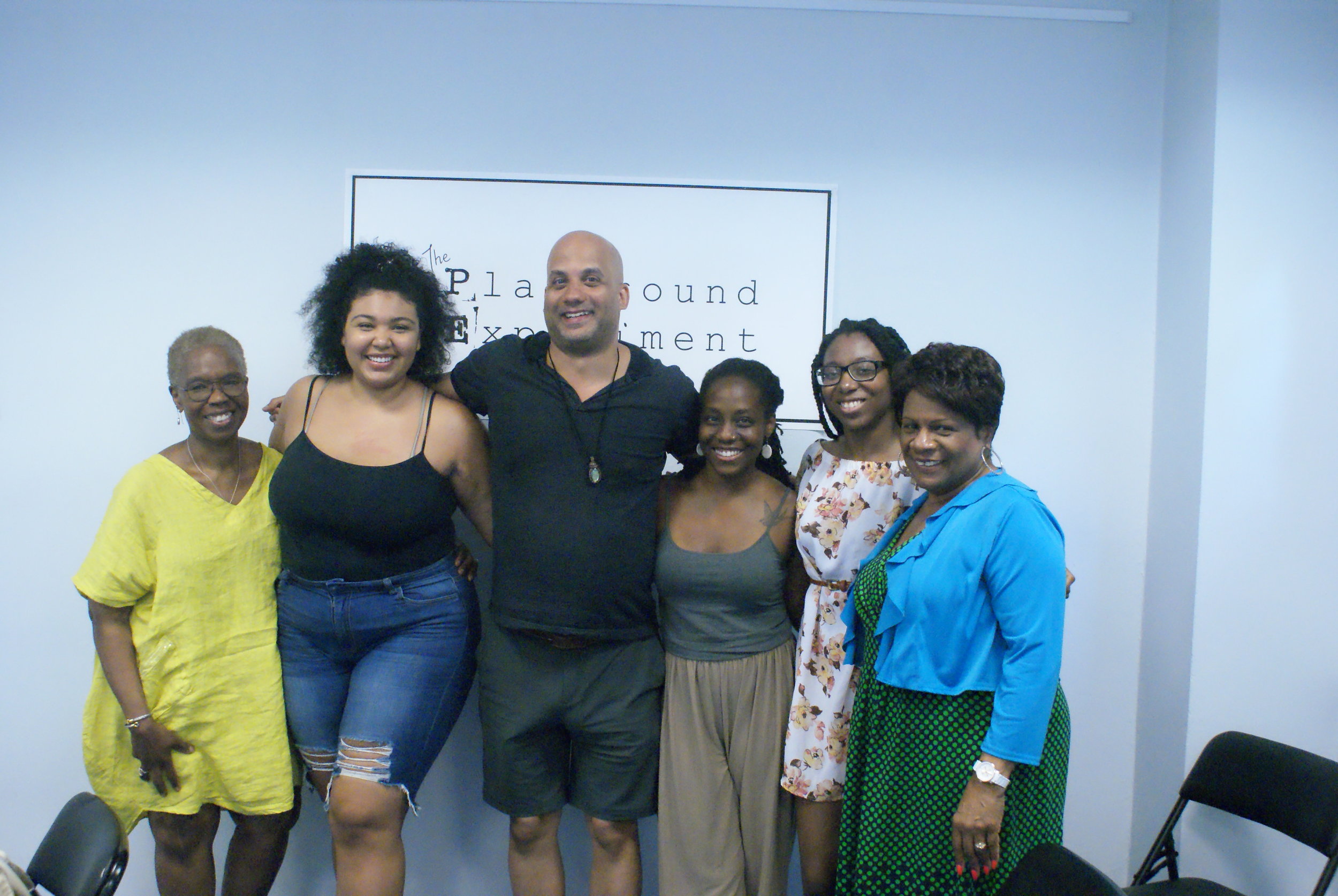 RECIPE OF A BLACK HERITAGE
(formerly Angels Watching from Afar)
BY CHRISTOPHER BUCHANAN
featuring: Aqila Thomas, Denise Locke, Kari Seward, Tina Fabrique, Shoya Dixon
Akiylah is fighting the fight. Is her rage, pain and loss intensified by family, the church and the secrets of the women in her life? Recipe of a Black Heritage: A multi-generational drama that still matters.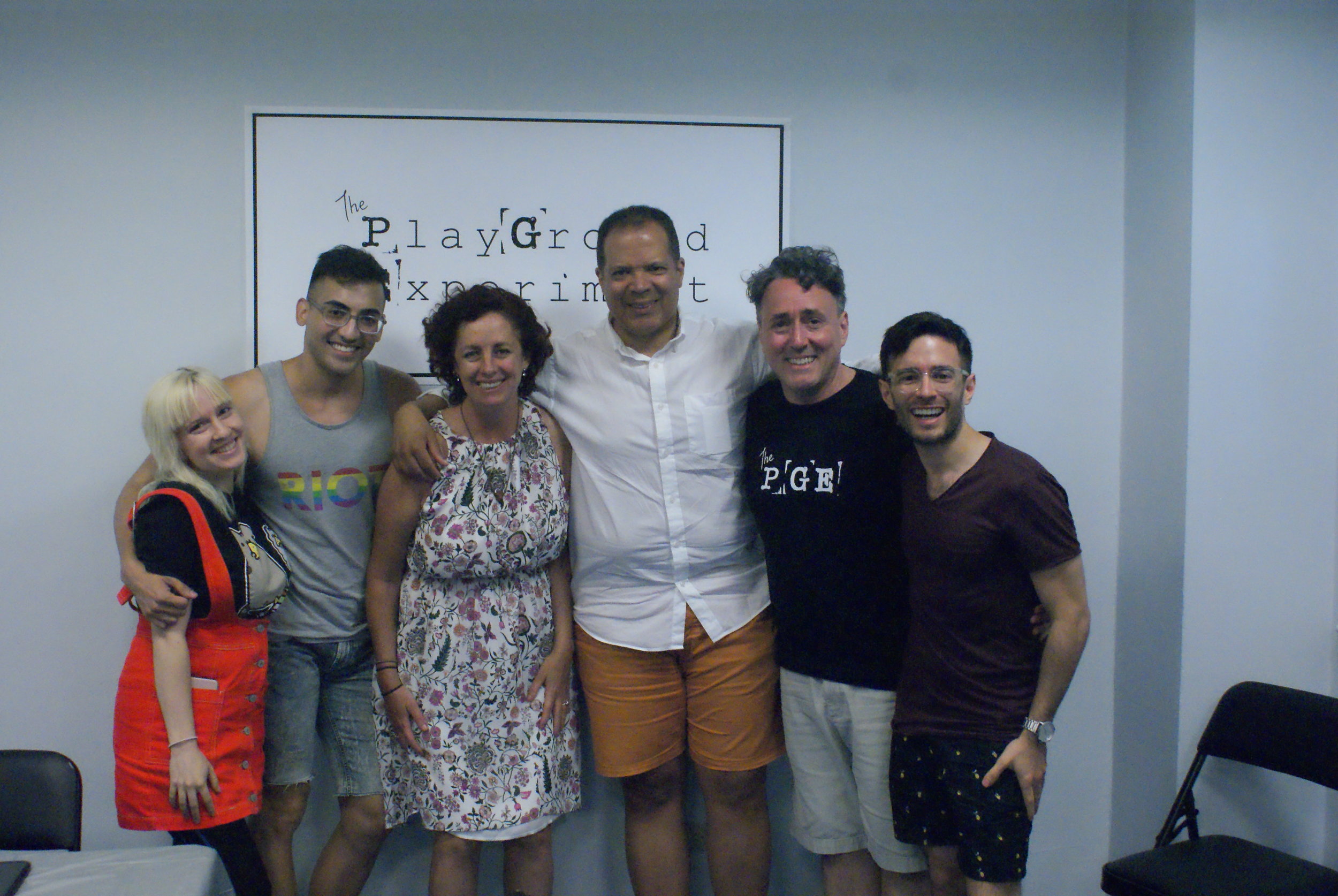 LAUNDRY
BY MAURA KELLEY
featuring: Daniel Hidalgo, Evan Edwards, Nick Locilento, Mickey Johnson, Paul Pakler
Drugs, Drag and Zumba! On a rainy day in NYC, a deserted laundromat serves as a meeting place for three LGBTQ+ strangers. Will this trio survive the spin cycle?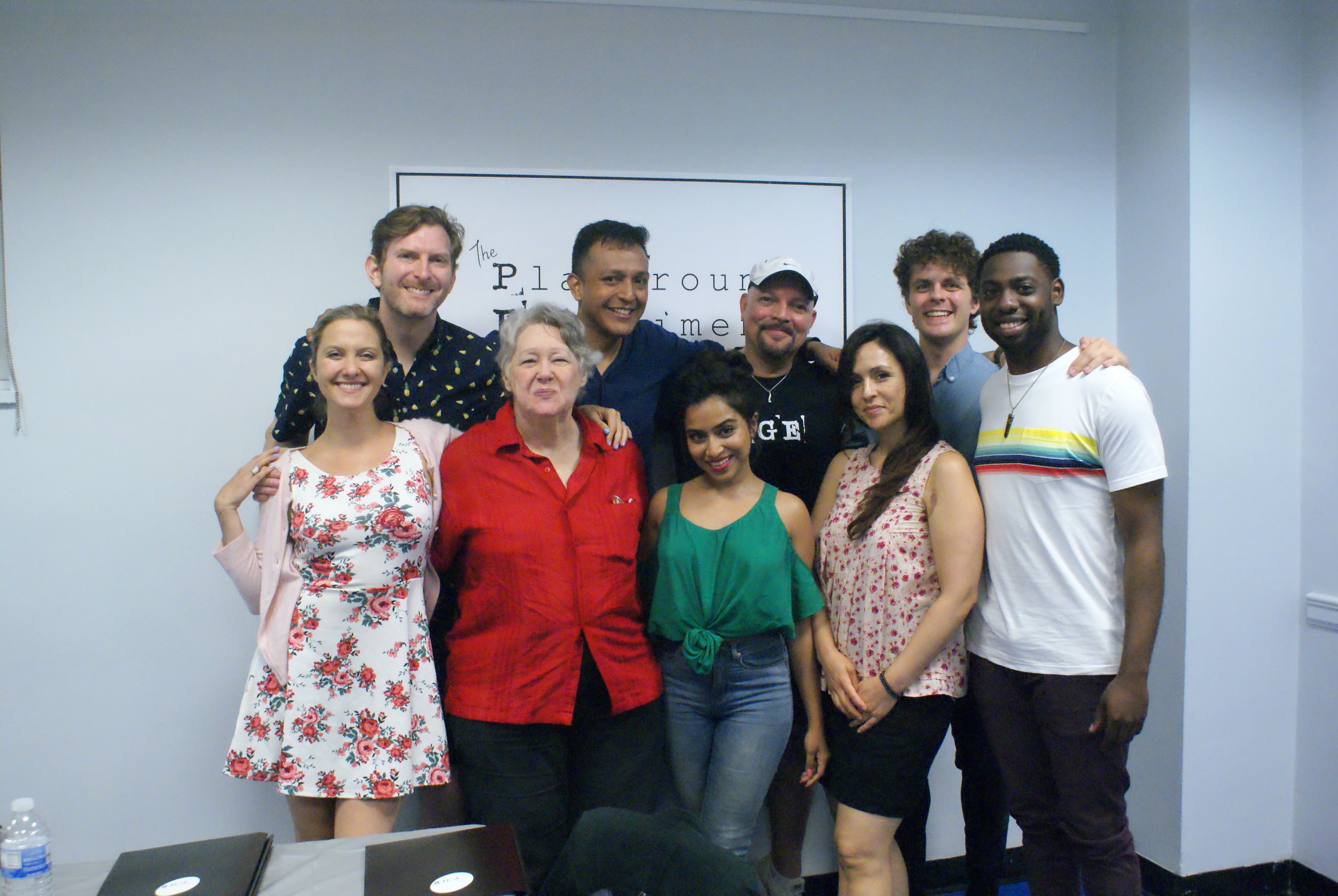 BIRDS OF PREY REGARDS FROM THE UPPER WEST SIDE
BY MARIO SOTERO
featuring: Brad Makarowski, Julian Robertson, Lewis Chapman, Monica Rey, Priyanka Krishnan, Richard Calavache, Sheila Joon, Tracy Rosten
These people are a MESS! All Drama, All Heart, All searching for Connections, Answers, and Truths, All Battling the Hilarious Heartbreak of Life. Who said living on the Upper West Side was ALL THAT?
First Reads Festival #8: March 16, 2019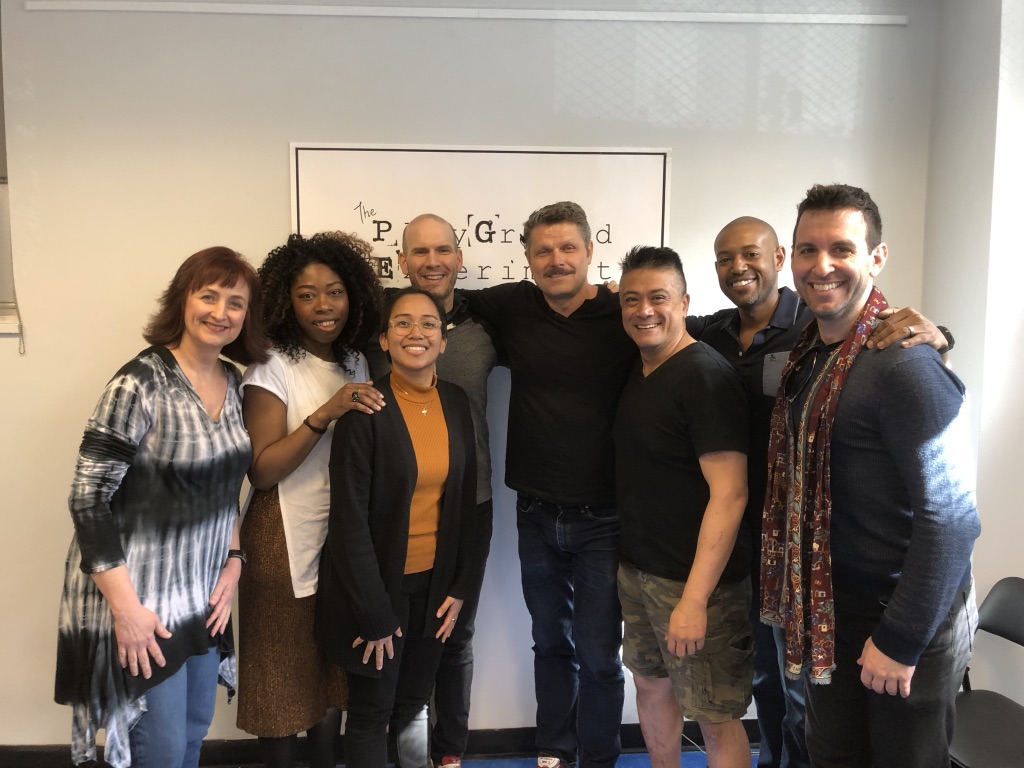 STARDUST OR THE END OF PETE
BY LEIF MENEKE
Pete survived AIDS. Will he survive 2019? Does he want to?

featuring: Akyiaa Wilson, Ari Rossen, Ariel Estrada,
Hakim Rashad McMillan, Kyle Minshew, Yz Jasa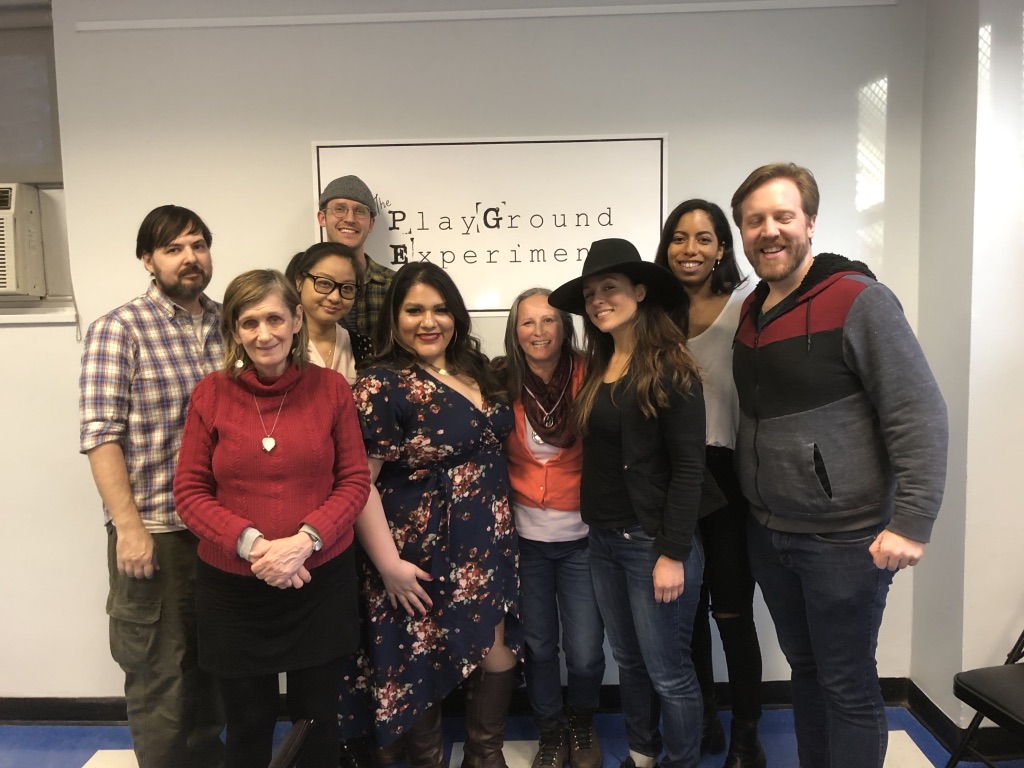 THE LEGEND OF SUICIDE JACK
BY NOEMI DE LA PUENTE
Whore houses, prairie schools and tumble weeds...long before the days of student loans, robbin' trains was a darned good option. After all, what's a poor, plain girl to do?

featuring: AJ Clauss, Alex Castro, Bryan Patrick Stoyle, Doug Rossi,Maria Isabella Rojas, Monica Rey, Prudence Holmes, Veronica Dang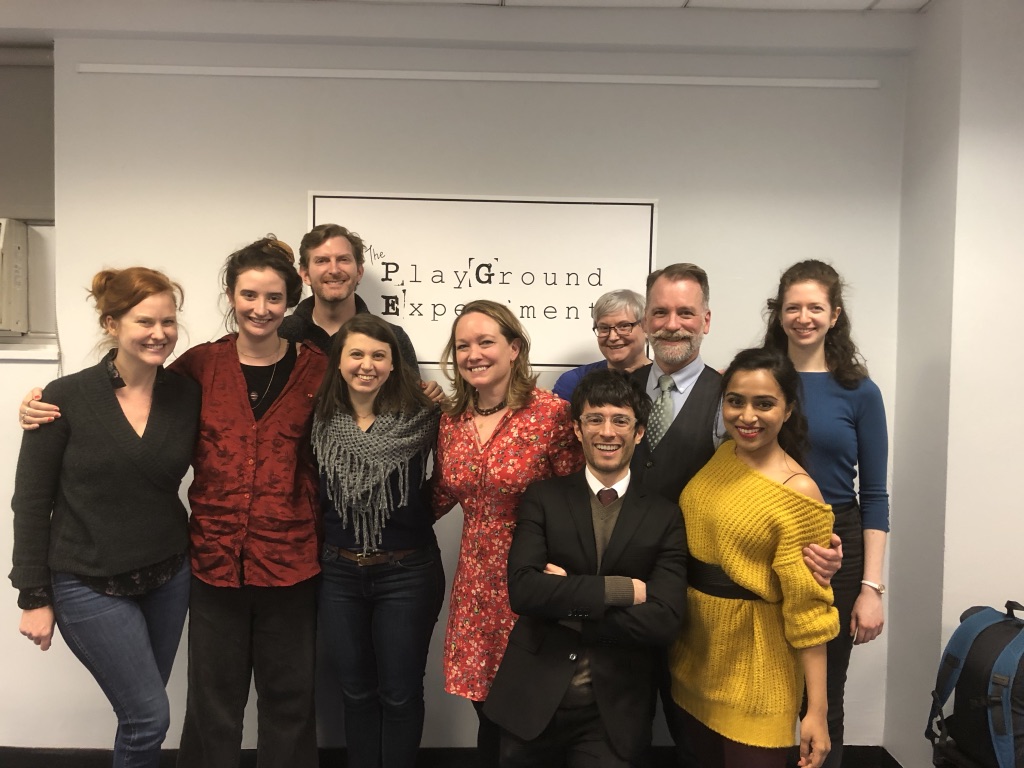 MRS. CHRISTIE
BY HEIDI ARMBRUSTER
Lucy is on the lamest bucket list adventure ever when she stumbles upon a clue that just might solve the mystery of Agatha Christie's 1926 Disappearance. Sometimes you need to disappear in order to find yourself.

featuring: Brad Makarowski, David Michael Kirby,
Emily Daly, Katherine Puma, Lily Fryburg,Natalie Neckyfarow,
Paul Pakler, Priyanka Krishnan, Rhonda Dodd
first reads festival #7: November 17, 2018
#IMWITHME BY OLIVIA REEVELL
(Formerly known as The Day The President Died)
Got a crazy, egotistical, fear mongering President running amok? Here's how to help: Step 1. Plot a manic scheme with your besties while drinking appletinis. Step 2. Kidnapping, dungeons, and ice cream fridays. #IMWITHME
featuring: Annie Keris, Charlie Wilson, Chase Naylor,
Mandy Murphy, Paeton Chavis, Priyanka Krishnan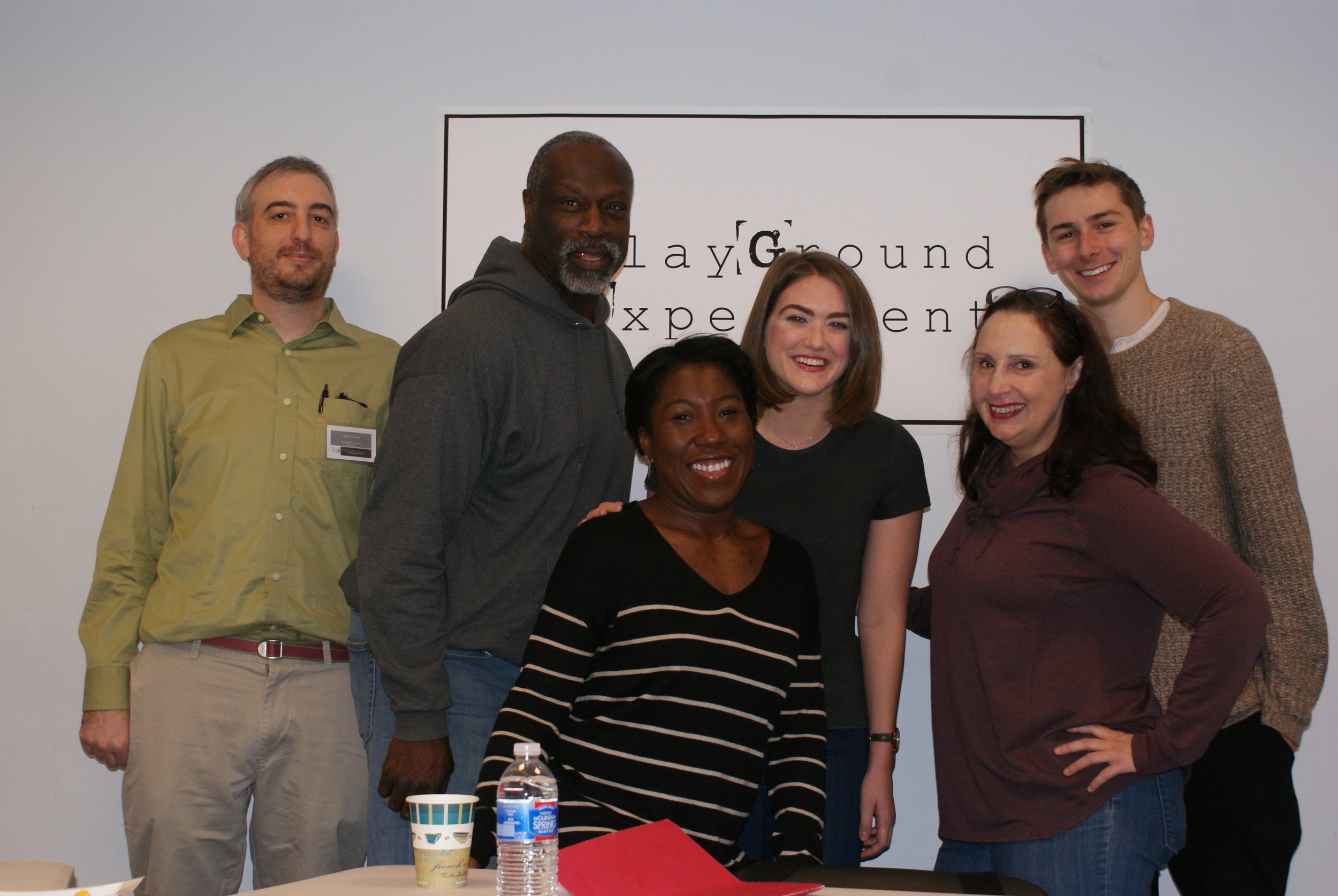 SWIPE RIGHT A MUSICAL BY ADAM PARRISH
boy meets girl. boy's mom meets girl's dad. they sing. Swipe Right. an intergenerational online dating musical.
featuring: Arthur Gregory Pugh, George Copeland, Karen Elliot, Monica Rounds, Peyton Edwards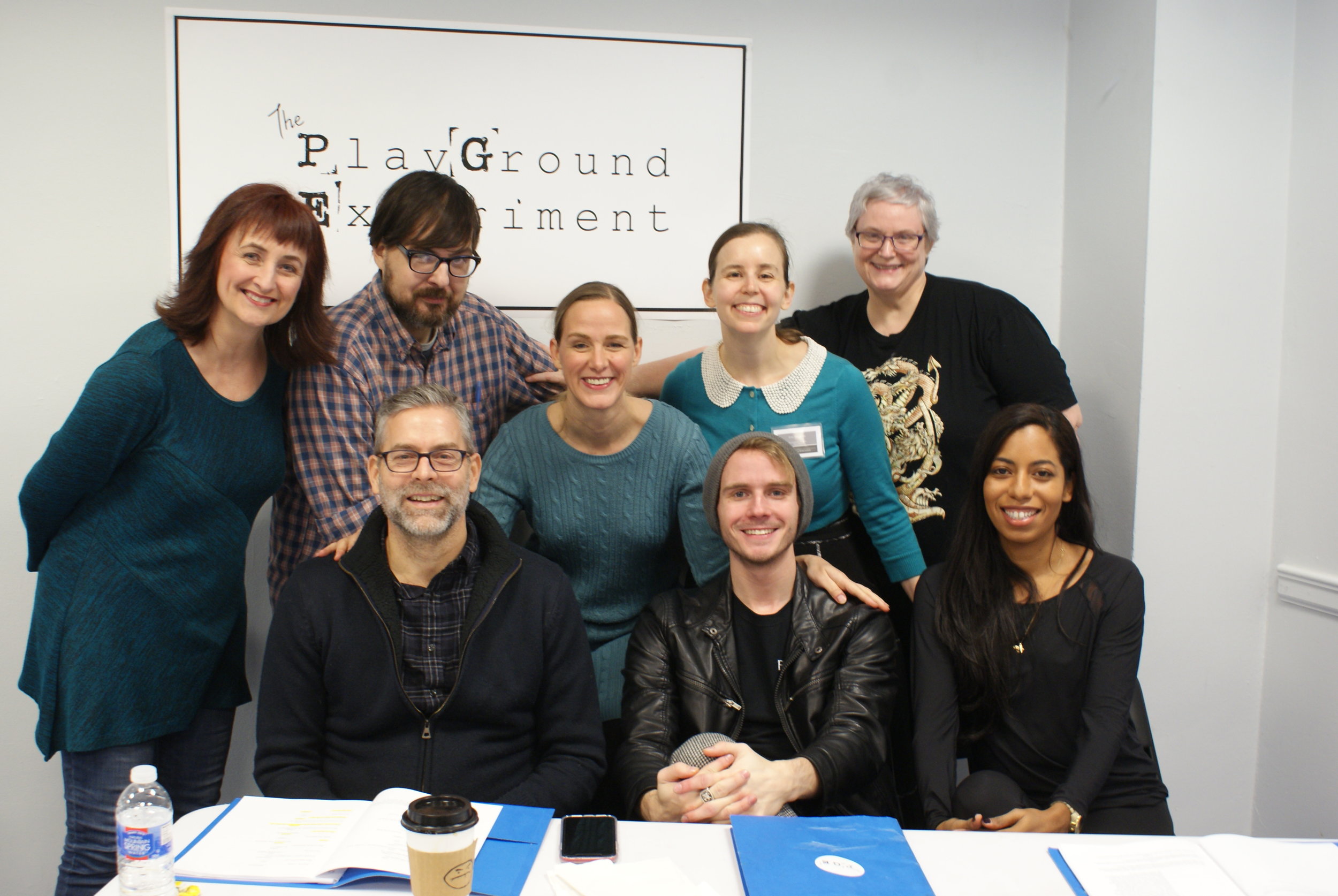 THANKSGIVING RETURNS BY ERIN MOUGHON
(Formerly known as Thanksgiving About The Children)
It's Thanksgiving dinner with your loud Southern family! A great time to introduce them to your Yankee boyfriend. Who bought you an engagement ring. That has a 30 day return policy. And it's day 29...
featuring: Andrew Griffin, David A. Gill, Doug Rossi, Jasmine Spiess, Maria Rojas, Catherine Overfelt, Rhonda Dodd
AN ECLIPSE COMES TO MANOR ON THE HILL
BY THOMAS DIETER
Insane townies, encroaching interlopers, gossiping geriatrics. In the shadow of the total eclipse, everyone has something to hide. But when the moon wanes all will come to light. This will be no ordinary visit to grandma's.
featuring: A. Jacks, Ari Rossen, Catherine Overfelt, John R. Tillotson, Marie Elena O'Brien, Matthew Menendez, Sharlene Hartman, Tracy Rosten
First Reads Festival #6: July 7, 2018
JOSHUA BY OLLIE FIELDING
Is Joshua Bowden the #secondcoming? In a divided time when social media controls our lives, Joshua has the attention of the world and the belief of his flock, but can he earn the faith of his daughter?
Featuring Arthur Gregory, George Pappas, Jasmine Spiess, Monica Rounds, Nilsa Reyna, Stuart Green
THE SWINGING NUNS BY MARINA BARRY
Prayers received. Prayers answered. The Lord sure works in mysterious and comical ways in getting the nuns of Our Lady of Perpetual Motion Catholic High School out of their financial woes. Can they do-sa-do out of the red and into the black?
Featuring Annie Keris, Betty Hudson, Claire Shiell, Evan Edwards, Sue Barrett, Topher Payne
THREADED IN THE AIR BY DAVID MICHAEL KIRBY
"To mend each tattered Faith/ There is a needle fair..."
One devastating loss after another has torn the young Edwards family apart. Will a haunting midnight journey through relationships past and present restore their love, their faith, their family?
Featuring A. Jacks, Catherine Overfelt, Laura Johnston, Madeleine Maby, Peter Macklin, Vaylyn Peterson
INTO HIS HAND BY MANDY MURPHY
Welcome to the arena, where bull-riders are Kings and women can only watch. Meet Jessica Jackson, a rider's gal, who's got everything she's supposed to want. Will she be able to withstand the jolts and lurches of her life or will she be bucked off?
Featuring A. Jacks, Bryn Packard, Nicole Orabona, Paul Peglar
First Reads Festival #5 MARCH 10, 2018
THE OLYMPIA BY LAUREL LOCKHART
The place he wanted to escape. The place he once called home. The Olympia, an old world diner struggling to survive in small town, USA. What price is Daniel willing to pay to keep the dreams of a family alive?
Featuring Evan Edwards, George Pappas, Monica Rounds, Paul Pakler, Rhonda Dodd
THE GATE KEEPER BY BLAIR INGENTHORN
A frustrated TV star. A pushy producer. An ambitious beauty vlogger. A dedicated personal assistant. In modern day Hollywood, who really has the power?
Featuring Angela Hsu, Brian Childers, Cait Cortelyou, John Concado, Thomas Dieter
THE LADY WARRIOR OF DUNDALK BY T.S. LORGE
A bar in Dundalk, Ireland, 1961. War plans are made, a man is betrayed and a woman tries to preserve her family.
Featuring Andrew Griffin, Brad Makarowski, Catherine Overfelt, Charlie Wilson, Chase Naylor, David Michael Kirby, Diana Cherkas, Kevin Jones, Kristen French, Nolan Blair, Paul Peglar
AZTEC PIRATES & THE INSIGNIFICANCE OF LIFE ON MARS BY DAVID DAVILA
What makes someone a traitor to their race? Johnny Montenegro has just been accused of genocide by the man he's been tasked with deporting. In a split-second he'll have to choose between his identify, his duty, and his sanity.
Featuring Alex Castro, Ashley Maria Ortiz, Gerard Lucero, J.J. Philips, Julia Babin, Julia Botero, Mandy Murphy, Nick Ortiz, Nicole Orabona
First Reads Festival #4 November 11, 2017
OR LIFE WILL BY A. JACKS
Sex, lies, blackmail, and loss bleed together in this gripping political tragedy where one teen's struggle with purpose and identity serves as both a currency and a curse.
Featuring: Brad Makarowski, David Michael Kirby, John Racioppo, Karina Richardson, Kirsten Hopkins, Manning Jordan, Starr Kirkland, Ysabel Jasa
INCOMPLETE PARTY BY DANIELLE WINSTON
Girl meets boy. Girl loses boy. Girl and boy find a hot body. Love, death, and Hellcats collide in this dark romantic comedy set in a magical New York City.
Featuring: Charlie Wilson, Diana Cherkas, Marie Elena' O'Brien, Mike Lesser
LEGENDS OF TEXAS BY NILSA REYNA
In a quintessential south Texas border town, sibling rivalry, past indiscretions and devastating loss ignite in high caliber drama, between the new owner of the family gun shop, and the ones that stayed behind.
Featuring: Andrew Griffin, Bryn Packard, Jacqui Rêgo, Jessica Vera, Julia Botero, Maria Peyramaure

TOMORROW WE LOVE BY JEFFREY VAUSE
Passion! Deception! MURDER? In the sleepy hamlet of Noble Bay, California circa 1960, divorcee Lanie Fairchild lives, loves...and endures! This is TOMORROW WE LOVE, a gender-bending melodramatic homage to the classic romantic films of the mid-century!
Featuring: Cait Cortelyou, Chase Naylor, Jimmy Moon, Kyle Minshew, Nick Matthews, Spencer Aste, Stacey Raymond
First Reads Festival #3 , July 8, 2017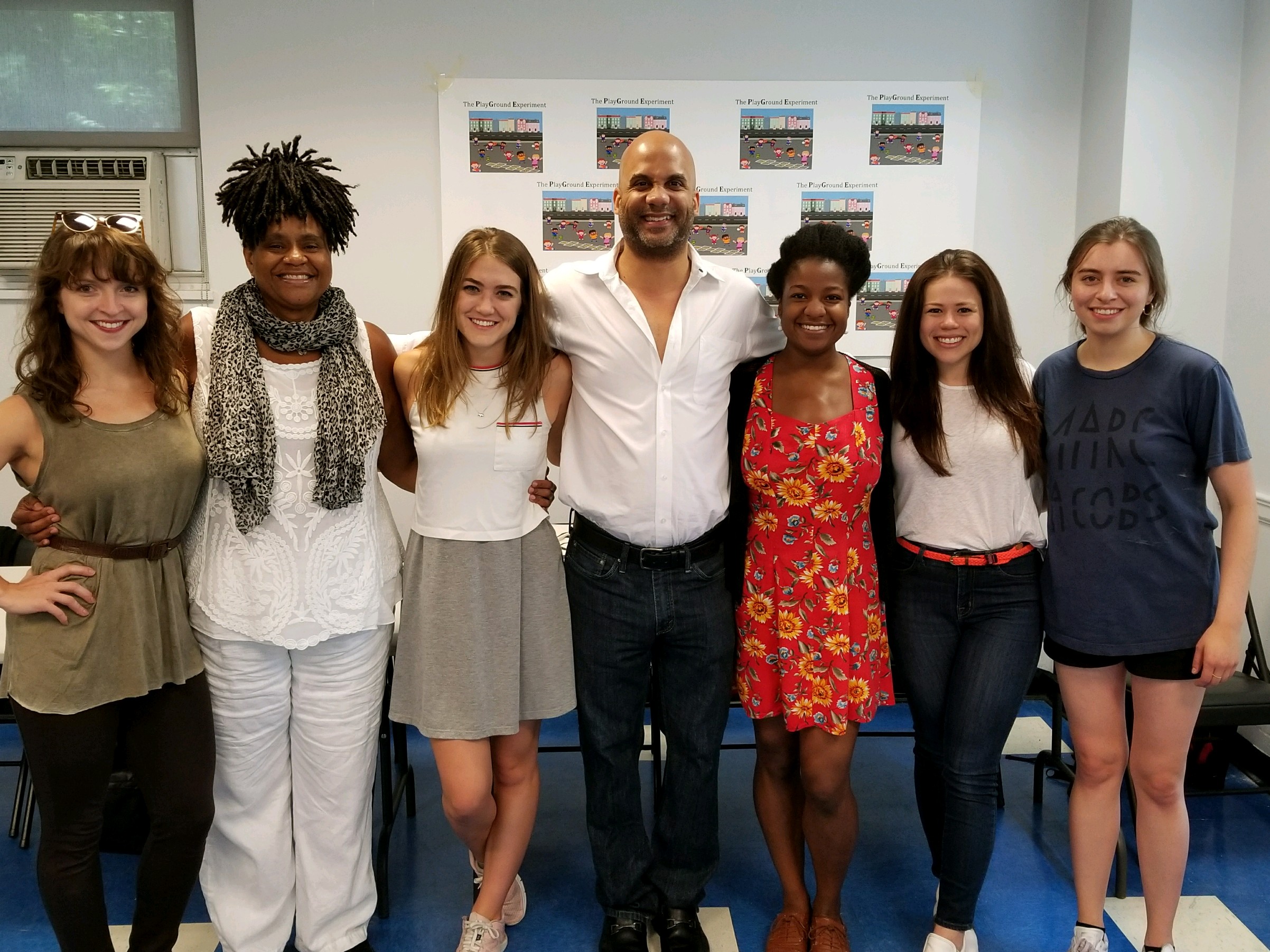 The Rule Book Can't Apply by Christopher Buchanan
Fouls are committed … nefarious boys, teen angst and personal drama threaten to unravel the fabric of this closely knit group of young women. Will they rebound for the win or foul out for good?
Featuring: Aja Singletary, Alexandra Bonesho, Josette Murray, Manning Jordan, Marie Elena' O'Brien, Mischa Goodman, Peyton Edwards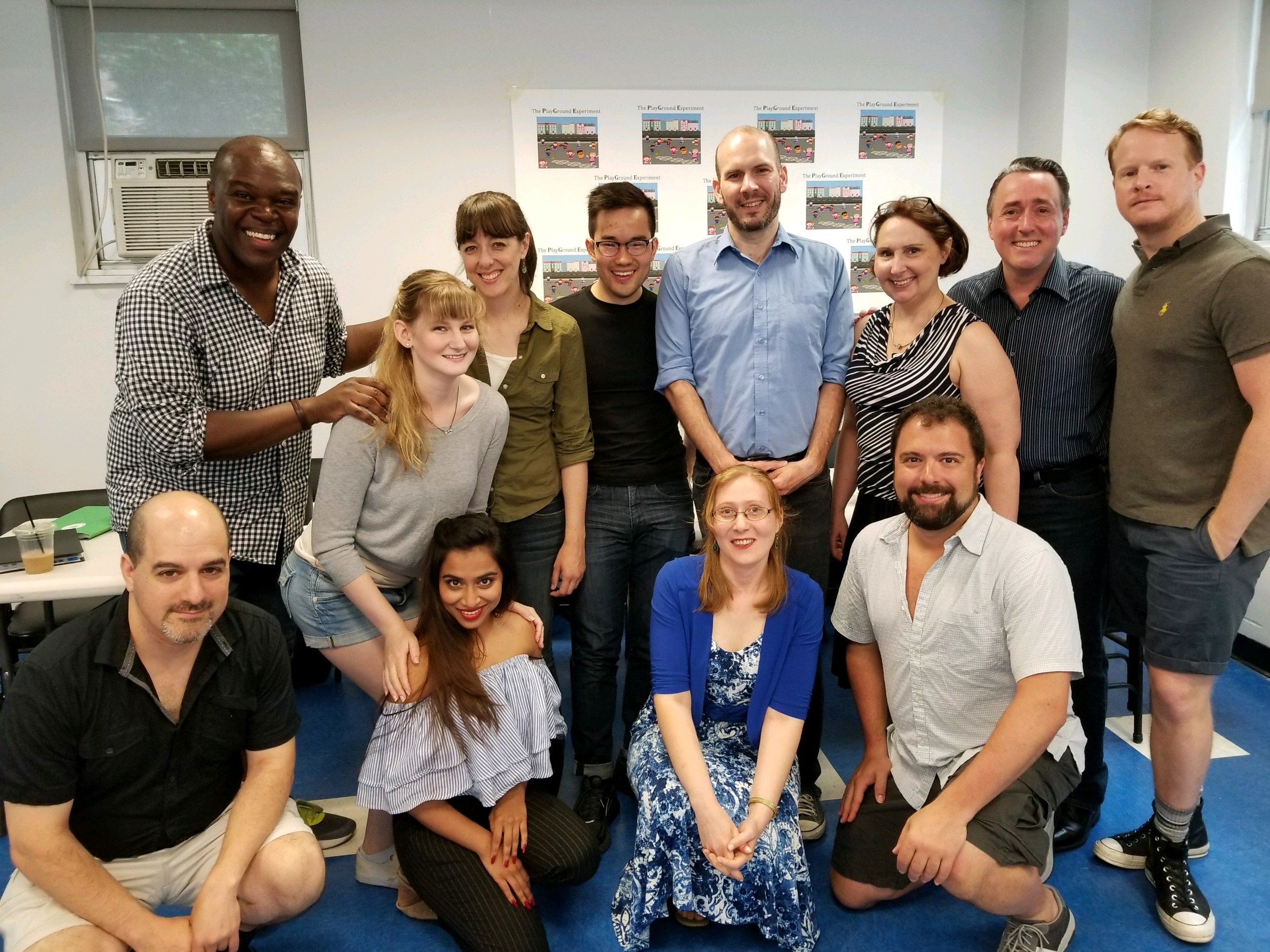 The Giant Hoax- a family musical by Kit Goldstein Grant
Step right up and see the story of Emily, a young scallywag who lands in 1869 and enters a world of imagination, filled with such dubious characters as P. T. Barnum, a shady showman named "Stub," and a petrified prehistoric giant - wearing a top hat.
Featuring: Andrew Glaszek, Anthony Aloise, Claire Shiell, Jackson Perrin, Jayson Kerr, John Prestianni, Karen Elliot, Kirsten Hopkins, Kyle Minshew, Nick Locilento, Priyanka Krisnan
Let There Be Love by Mrinalini Kamath
Featuring: Cait Johnston, David A. Gill, Debargo Sanyal, Joy Jacobs, Paul Peglar, Yvette King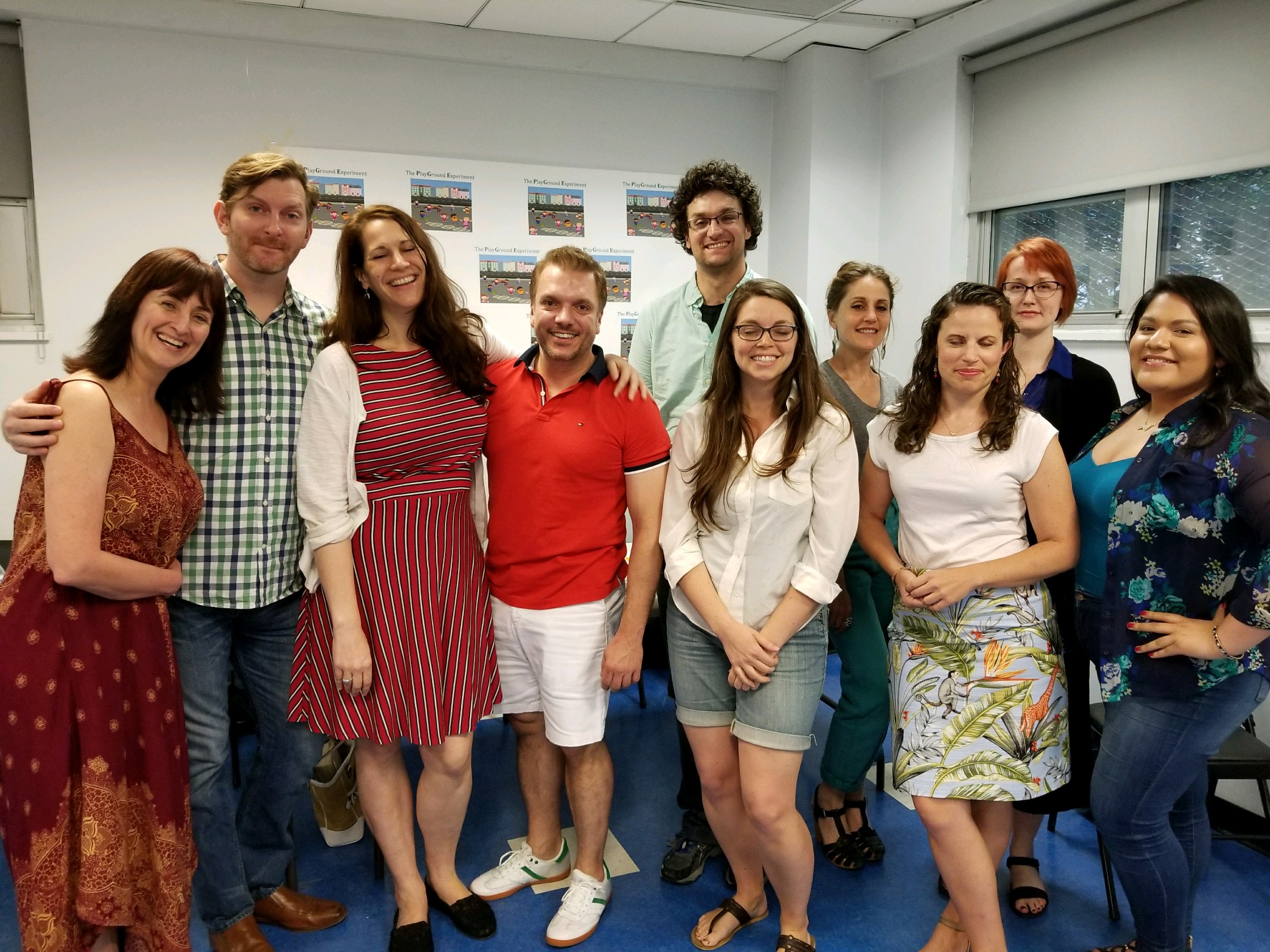 The Walk Up by Emily Comisar
Sometimes you choose the family you choose and sometimes they choose a family for you. Sometimes when there's nothing left to lose, a sledgehammer will be what gets you through.
Featuring: Alex Castro, Brad Makarowski, Carla Briscoe, Catherine Overfelt, Graceann Dorse, Jeanette Bonner, Maya Rosewood, Shane Salk, Todd Butera
First Reads Festival #2 March 7, 2017
Boxthorn by Jim Cairl
Would you... Would you do it over...Would you do it over if... Would you do it over if you had the chance to do it over?
Featuring: Alex Castro, Bryn Packard, Marie Elena' O'Brien, Paul Pakler
Guru by Jessica Luck
If Meg spends 8 weeks with Kendra, and Kendra is 20 points from passing, how many Youtube videos will Lindsee have to post in order to lose 3 pounds? The formulas that you may need to answer some questions are found at the end of the examination.
Featuring: Ashley Jackson, Cait Johnston, Christine Redhead, Cotton Wright
Why Us? by Brad Makarowski
It may not be the first time someone fell in love, but it may be the first time Frank and Izzy fell in love. And god only knows if the things that pop into their lives are a miracle, dumb luck or something they may forget.
Featuring: Alexandra Bonesho, David Michael Kirby, Don Castro, John Raccioppo, John Robert Tillotson, Sharlene Hartman
Members of the Choir by Evan Edwards
You're invited to a surprise party! Where: Tyler's apartment When: New Year's Eve Dress Code: A thick skin and a sense of humor No need for gifts. That's been taken care of...
Featuring: Andrew Glaszek, Anthony Aloise, Brian Childers, Charlie Wilson, David A. Gill, Hakim Canter McMillian, Jayson Kerr, Jonas Cohen, Nick Ortiz, Roy Flores
First Reads Festival #1 November 5, 2016
THE GAMING PROJECT by Wendy Herlich
An American mother desperate to connect with her son meets a Chinese gamer struggling to vanquish her demons. It's only a video game. But who is playing?
Featured Actors: Bryn Packard, Christopher Buchanan, Fenton Li, Jackson Perrin, John Roque, Nancy Nagrant, Nina Covelesky, Siho Elsmore,Tim Torre, Ysabel Jasa
PITTSBURGHESE by Paul Pakler
Amy, who's this nice lady, hires this actor guy, Matt, to give her lessons to help her talk good at her daughter's fancy wedding. And it's funny and sad and yinz'll cry like whenever the Steelers finally got one for the thumb. So, yeah, see it, n'at.
Featured Actors: Diane Quinn, Paul Pakler, Marie Elena' O'Brien, Thea Brooks
IRREGULARS by David A. Gill
ir·reg·u·lar: 1. not even or balanced in shape or arrangement.*
(*see also the Horne-Piccolo Family of Carroll Gardens, Brooklyn)
Featured Actors: Evan Edwards, Joan Wool Rubinstein, Joe Ford, Hakim McMillan, Kim Reinle, Marie Elena' O'Brien, Todd Butera
HOME TO THE SEA by Jonathan Calindas
Mark is teaching a computer to think. Margaret is living with dementia. Ellie is just trying to make sense of it all. A meditation.
Featured Actors: Alex Castro, David Michael Kirby, David Meyers, John Racioppo, Rhonda Dodd, Roy Flores, Tamara Torres
CELL MEMORY THEORY by Mike Lesser
Ann is a survivor. But will the transplanted cells that saved her ultimately destroy her second chance at life?
Featured Actors: Ashley "Ajax" Jackson, Heidi Armbruster, Jeaniene Green, Sue Berch